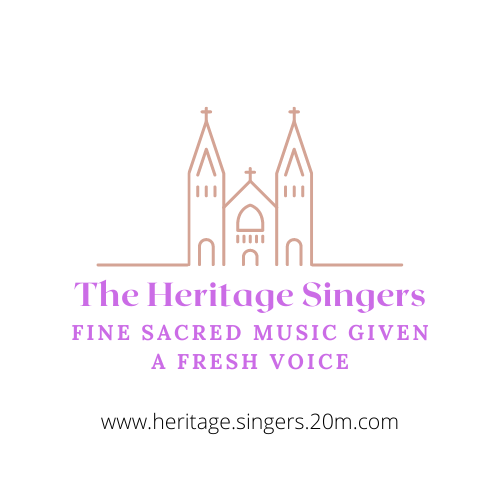 Services
Choral Evensongs, Matins, Eucharists and Special Services
As we near the end of our second 10 years, we remain strongly commited to providing Choral services within the Anglican Liturgy. These can be Evensongs, Matins, Eucharists or special services for Feast days of the Churches year or Church Anniversaries. Although we are obviously delighted to sing in Cathedrals, and at Festivals, we are also concerned that the choir's services are available to every church no matter how small. Do not be put off enquiring if you are a village church. We'd love to sing with you. We can manage without the organ if necessary! We are very happy to sing with remnants of choirs to make up a viable group for singing a larger work. Our aim is the keep live music in worship and to bring it back to where it has been lost.
What does it cost?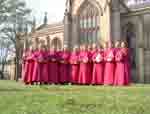 We make no charge for singing a service but we do appreciate donations to cover some of our costs within the means of the church. We are happy to provide an organist if needs be as well as coming to sing.
Concerts
Concert Opportunities for Festivals, Churches and other Venues As we move into our 20th. year, we are anxious to extend the choir's concert activities to as wide a range of venues as possible.
In recent years we have held extremely successful Concerts in The Royal Armouries, in Leeds Parish Church , at Fountains Abbey, in various USA locations, in Norway, in Amsterdam and in many rural Churches.
Your venue no matter how small can now have a Concert tailor made to your needs for 2013/14. We will help in arranging a Concert for you. When you have selected a date, get in touch and we will check the diary to see that the date is free.
There is a fee for Concerts which is dependant on many factors. However, once we know what you want and have talked through the possibilities we can give you a quotation.
We will provide publicity Materials for you to advertise the concert and Press information for circulation to local areas and a helpful checklist of things to do to ensure your concert is a success.
Concert Music is drawn from the Choir's main repertoire and can be themed to suit most occasions. In most cases there will be a wide variety of Music, covering Early English, American and Contemporary. There will also be (if needed) lighter pieces and Instrumental and Solo Vocal contributions.


We never forget that it is your event, and as far as we are able we will build the programme around your needs.
Past Programmes are available on request.
Weddings
The Heritage Singers has provided Music for Weddings at Cathedrals, Churches and Stately Homes, and are delighted to provide this service at a time when so many churches are without a traditional Choir.
The Choir will sing as guests arrive, during the register signing and in the leading of the Hymns. We also join in with any said parts of the service.
As a choir used to leading worship we are ideally suited to singing at weddings.
There is a minimum Charge for weddings (Dependant on distance, availability of singers and other requirements, Organists etc.)
Although we can sometimes provide singers for Midweek Weddings - availability is very limited for these - so early booking for all Weddings is advised.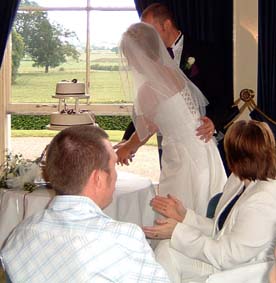 I just wanted to say thank you so much for your beautiful voices at our wedding last weekend. It was a really perfect start to a wonderful day and everyone has been saying how impressed they were with both the sound and choice of songs- absolutely spot on!
from a recently married couple