A Continuing Venture to complement the existing choir
After 15 successful years the Heritage singers announced an expansion in its plans, a new and completely different choir for 2009. Aimed at bringing neglected choral masterpieces back to audiences and performing these in prestigious locations, the new choir continues to run alongside the Heritage Singers who have provided Choral services for over 250 churches since their formation and will maintain this role.
Director Tim Knight says ' this new choir complements our established group and continues to look for singers, with one intensive rehearsal a month and four events each year, including a recording. The focus is on concerts and recordings as opposed to the service work the Heritage Singers undertake.'
With a choir of 24 singers, the music for the first year included masterworks by Scarlatti, Croft and Handel and venues for performances included churches, art galleries and stately homes.
Since its successful launch in March 2009, Heritage Masterworks Chorale has sung in six prestigeous venues and is now celebrating two highly successful years of existence. Rehearsals are held at Yorkshire College of Music and Drama - opposite the university. The next concert is a return visit to the venue of the first one, St. James' Hospital Chapel. The autumn will see the choir visiting and singing in the 'Hidden Minsters of Yorkshire.'
This exciting project continues to bring masterpieces of choral music into the public arena through an annual series of subscription events which we believe live up to our aim of 'the finest music in the finest venues.' If you want to find out if we're right you'll have to come along to see and hear us. Booking is easy by clicking the link in the next column.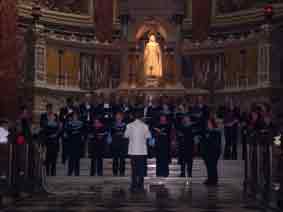 Tim conducting in St. Stephen's Basilica, Budapest