The Choir.
The choir was originally founded to keep alive the Anglican Choral Tradition in churches where there are no longer choirs. For 19 years this has been the core workload of the choir, undertaking 8-12 visits a year to Rural churches and also to Cathedrals when the resident choir is on holiday. In this time we have also sung festal services for the major Northern festivals.
Our repertoire is Anglican Church Music from Tudor Times to the present day and includes composers such as Tallis, Gibbons, Pawley, Randall-Thompson and Knight.
More recently, with the decline in requests for Choral Evensong, we have moved to offering themed choral acts of worship. We cover such topics as Remembrance; Penitence; Celebration and would be more than happy to look to providing a service of words and music on any topic to suit your church.
We have about 26 members who come from all over Yorkshire (and sometimes beyond!) However, new sight reading members are always welcome. There is no weekly commitment as practices are only held when needed.
The choir is also available for Weddings and Concerts.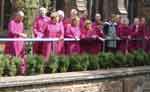 This is a really friendly choir
One of our newer members
Our Musical Director
Born in Northallerton, Tim became a chorister in York Minster Choir under Dr. Francis Jackson, with the daily round of choral services exposing him to an immense and diverse repertoire.

Tim now pursues a three-pointed musical career. As a conductor, he has worked with choirs large and small and held posts with Wakefield Festival Chorus, Vocalis, The York Rose Singers, Thornton Vocal Union, and provided choral workshops for many other choirs and Choral Organisations. He also runs two choirs he founded, The Heritage Singers and The Heritage Masterworks Chorale.
The Heritage Singers have sung Choral Evensong and other services throughout Yorkshire for the past twenty years and work to maintain and restore the Anglican choral tradition in areas without access to a regular choir. They have provided services in the great English Cathedrals and also the smallest of village churches. Touring also forms a major part of the choir s activities and it has visited Ireland, Holland, Norway, Hungary and the USA.

The Heritage Masterworks Chorale was founded in 2009 to provide concerts in venues that do not have access to choral music and to tour internationally. Drawing its members from all over Yorkshire it has already performed at the Menin Gate (Belgium), St Patrick's Cathedral and other venues in New York and is presently on a 5 year touring plan taking the composers' music back to their own churches. In November 2015, this resulted in singing Fauré's Requiem to a full house in La Madeleine Church in Paris.
This year the choir tours Venice as well as undertaking a programme of events here at home.
Tim became Musical Director of Leeds Male Voice Choir in January 2014 and he quickly re-established Leeds Male Voice Choir as a popular feature on local music scene. Under Tim's leadership, along with his innovative and diverse concert programming and ability to expand audiences, a period of continued growth in membership has resulted in one of the most exciting periods in the choir's 99 year history.
This year sees them celebrating 100 years of that history with a spectacular concert in Leeds Town Hall.

Tim also runs the annual Summer Cathedral Course with the Eldon singers giving experienced singers the chance to sample a cathedral choir setting for a weekend. He has recently acted as a judge in the Canco Mediterrania International Choir Competition in Barcelona.

He has previously held the post of Music and Festivals office to the National association of choirs and is presently Chairman for the Royal School of Church Music committee in the Ripon and Leeds area.
Other Choirs Directed by Tim Knight:-
Click on the link to visit Leeds Male Voice Choir Leeds Male voice choir
Click on the link to visit Heritage Masterworks Chorale Heritage Masterworks Chorale