Singers needed
for Yorkshire's acclaimed touring choir
The Heritage singers are based in Leeds and provide a mix of choral services and concerts throughout Yorkshire and beyond. We are now looking for enthusiastic committed singers with some sight reading ability in all voice parts to carry out our exciting plan of events.
Singers need to be available for Sunday evening rehearsals and also be prepared to travel to events.
---
'an opportunity to sing the finest music in the finest buildings'
---
friendly and relaxed choir
repertoire from Tudor Times onwards (predominantly sacred music)
previous tours have included USA, Norway, Holland, Hungary and Ireland as well as most Northern cathedrals and many other venues throughout the North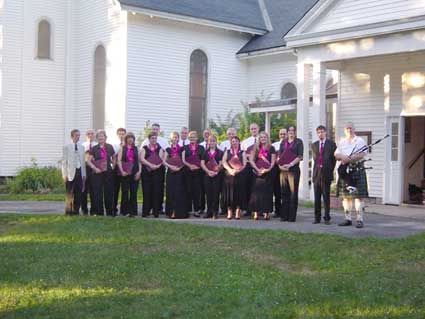 Contact us for full details


Contact the choirs Administrator, Edward Turner

Email: administrator@heritage.singers.20m.com

Tel: 0113 2576521

and a full information pack will be sent to you.

Click here to go to a PDF printable version of this page.

Picture taken on Peake's Island during our visit to sing in America in 2005.